Prague is one of the most interesting places to visit at Christmas due to the nostalgic atmosphere that characterizes the city. Wandering around its markets, watching fireworks on top of landmarks… enjoying the last days of the year in Prague in an unforgettable way is quite simple!
What to do at Christmas in Prague
When Prague celebrates Christmas the city transforms itself into a true fairytale. The cold is mixed with the typical mist of these days, and the Christmas lights illuminate the decorated streets of Prague with a special halo. In the Old Town Square (Staroměstské náměstí) a big Christmas tree stands in the center, while a living nativity scene and a few choir groups are the most traditional elements of these festivities. Discover the Christmas fair in Prague is one of the essentials for living the Czech Christmas.
Christmas markets in Prague
From 20th November to 24th December 2016 the Christmas markets (Vánoční trhytrdelník (a kind of roll with cinnamon and sugar), medovina (mead) or hot wine. Access is free.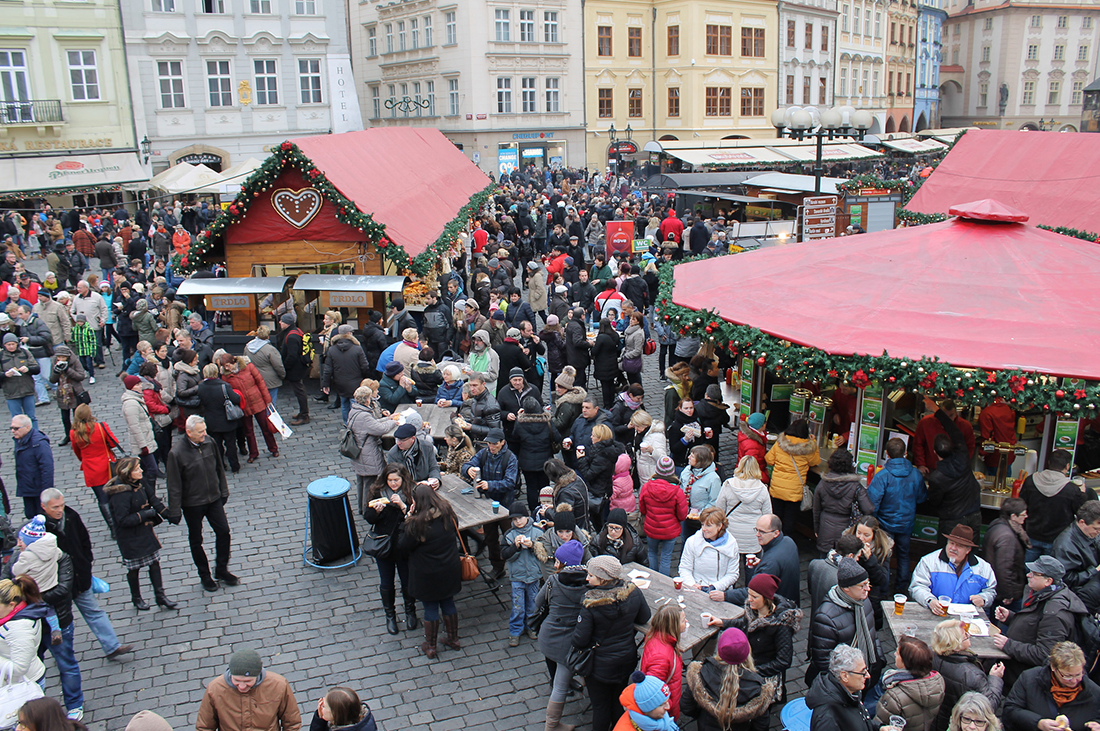 Photo: elPadawan
The biggest and most famous one is the Christmas market in the Old Town Square, where you will find a lot of huts, ornaments and also musical performances. Other big Christmas Markets are located on Wenceslas Square (Václavské náměstí) and Náměstí Míru square, while the little fairs are in the Republic Square (Námestí Republiky), the Malé náměstí square and the Tylovo square (Tylovo náměstí).
And "a must" is the Havel Market (Havelske Trziste), a permanent market from 1232 and the oldest Prague Christmas market.
Traditional Czech Christmas dinner in Prague
The traditional Christmas dinner is one of the best moments in the city. The best way to enjoy it is being a guest in a native home and live how is a real Christmas family dinner. However, if you have accommodation in Prague there are some restaurants that offer a similar menu. Of course, not all of them are open during these days, so you should check which restaurants are open at Christmas and book in advance to have a table.
The Christmas dishes are quite varied, but there is a main ingredient of the traditional Christmas dinner: the carp (Kapr). Fried carp, carp soup or breaded carp accompanied by salad potato are some signature dishes. In fact, you may be surprised to find aquariums and fish tanks with carps at any Christmas market in Prague. That's because children are responsible for choosing the carp to be cooked at Christmas, which remains in their bathtubs until the big day. Some children prefer to save and return them to the river.
Other dishes that can not be missed on the Christmas tables are sauerkraut, fish soup, mushrooms, potato salad and the traditional Christmas bread called vánočka.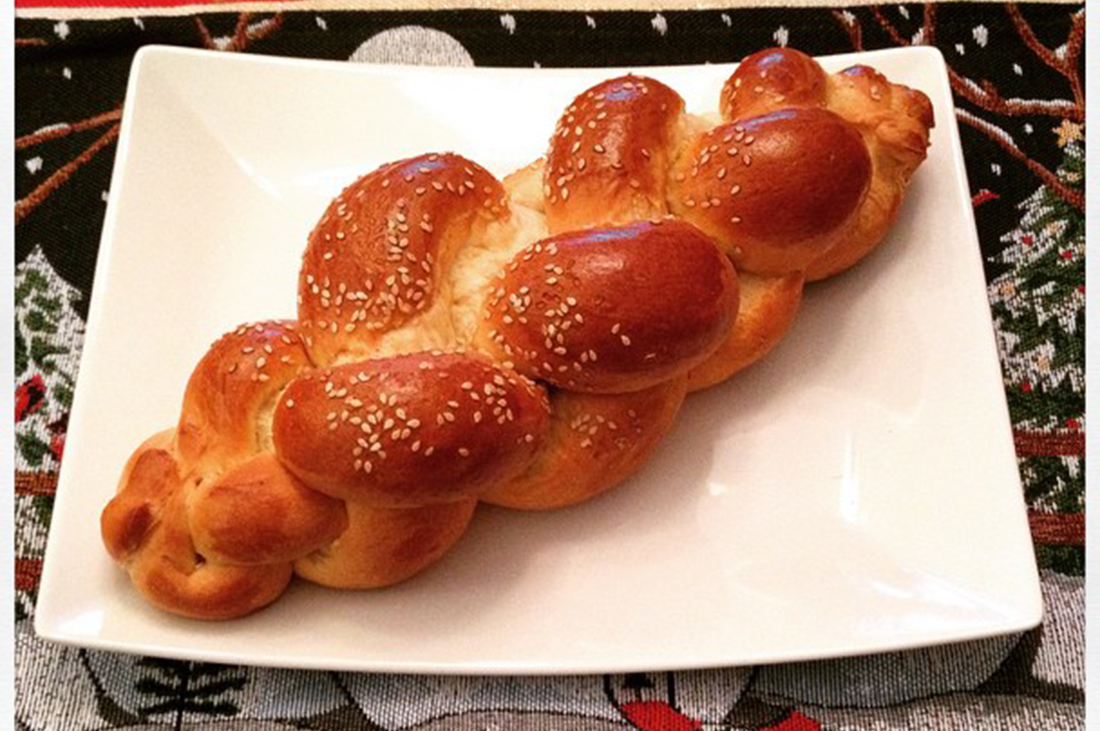 Photo: Somecanuckchick
New Year's Eve in Prague with children
The city also has several activities to do with your partner, family and friends, so that everyone has an unforgettable experience.
Those who want to celebrate the New Year in Prague in love, there isn't a better plan for romantics like spending the New Year's Eve on a cruise along the Vltava river. It may seem a luxury activity, but the fact is that a cruise in Prague is much cheaper compared to other cities like Paris or London. For Jazz lovers it is recommended The Jazz Cruise Through Prague, which it has a buffet and bar service while a Jazz band plays during the evening. The cruise includes attractions like Prague Castle, Charles Bridge, the National Theatre, Prague Parliament, Malá Strana and the Vysehard Fortress. If you prefer a disco rather than a jazz band, there is The Prague Party Boat, which pretty much offers the same but with a DJ that plays a selection of 80s/90s/00s/10s party music.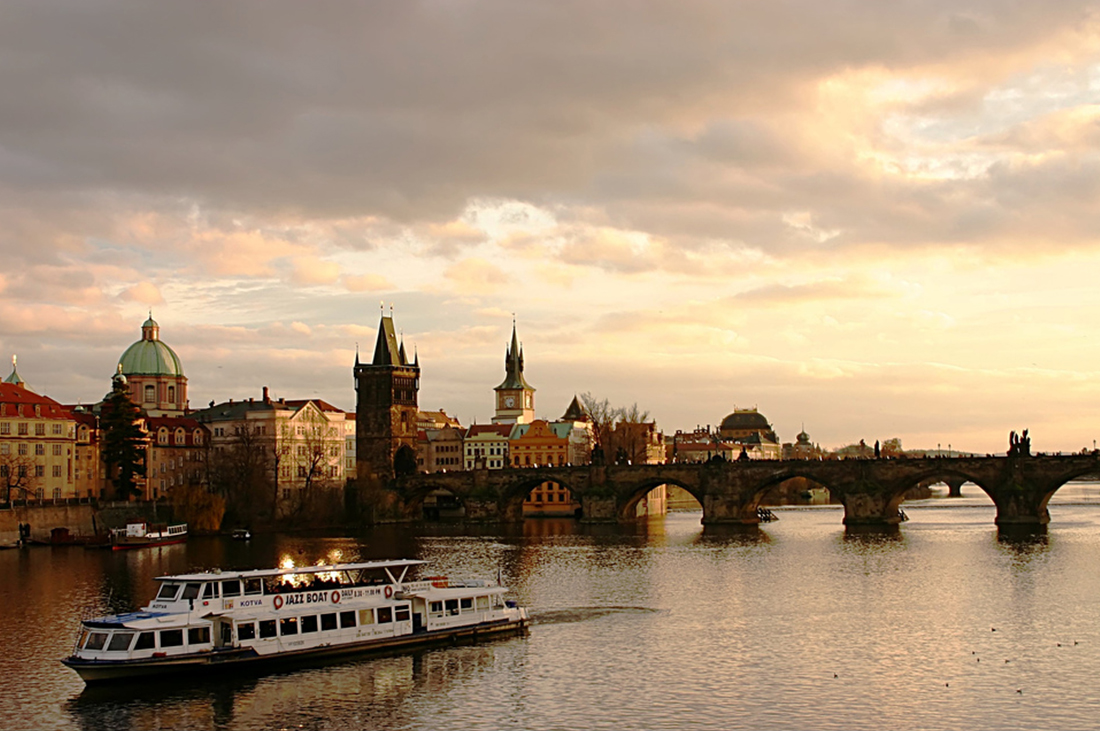 Photo: Jake Liefer
For those traveling with kids, the Prague City Hall organizes a New Year's day family fireworks in January 1st at 6 pm. Each year, and for ten minutes, the fireworks have a different theme. The best way to enjoy them is finding a high area of the city like the Prague Castle, Letná Park (Letenské sady), Petřín Hill or from the various bridges in the city: Charles Bridge (Karlův most), Legion Bridge (Most Legií), Mánes Bridge (Mánesův most) and the Čech Bridge (Čechův most), among others.
No obstante, existen buenas vistas desde otras zonas del casco antiguo, como la plaza de la Ciudad Vieja, donde multitud de jóvenes se reúnen bajo el reloj astronómico para dar inicio a la fiesta.
However, there are good views from other areas of the old town, such as the Old Town Square, where many young people start the party under the astronomical clock.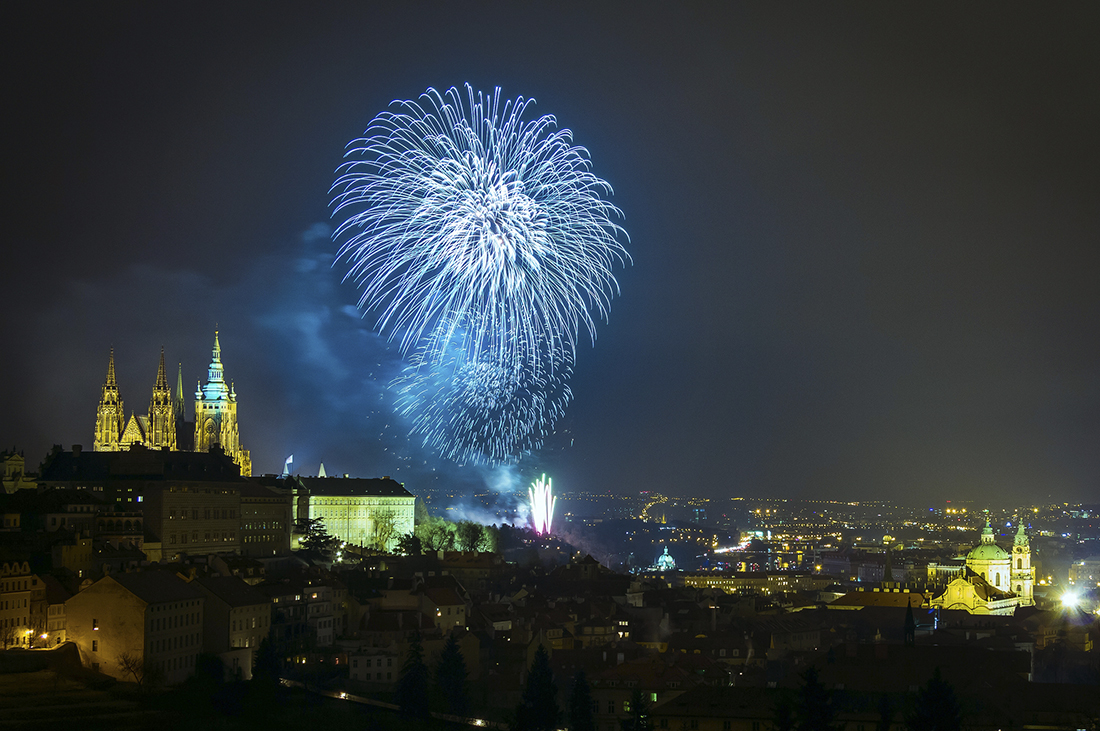 Photo: Roman Betik
New Year's concerts in Prague
As usual in many cities, Christmas and New Year's concerts are also important in Prague. The Prague Symphony Orchestra is usually in charge of both, playing classical repertoire and sometimes honoring some Czech composers. Its performances take place in emblematic buildings of the city, including the prestigious Rudolfinum's Dvořák Hall (on December 25th from 8 pm), the Basilica of St. James (Bazilika sv. Jakuba Většího) or the Prague's Municipal House Prague (January 1st from 7:30 pm).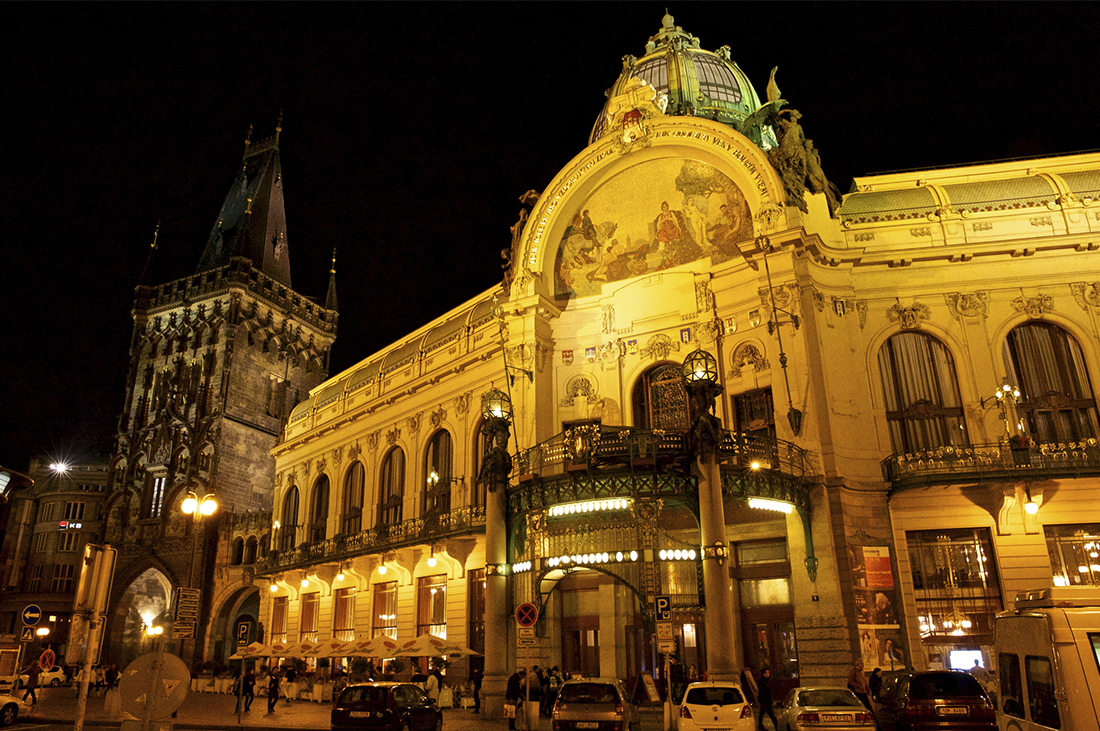 Photo: Victor Wong
Finally, we remind you some expressions in Czech that may help you on your visit:
Veselé Vánoce! (Merry Christmas!)
Hezké svátky! or Krásné svátky! or Příjemné svátky! (Happy Holidays!)
Šťastný nový rok! (Happy New Year!)
Veselé Vánoce a šťastný nový rok! (Merry Christmas and Happy New Year!)
MH Apartments