Once again, the city of Barcelona is preparing to host what is undoubtedly one of the sporting events of the year: the Zurich Marathon Barcelona 2020. A reference point in international athletics since 1978, it is now consolidated as the fourth most popular marathon in Europe, only surpassed by those of Berlin, Paris and London. Transport, hotels, restaurants and tourist apartments are already preparing to welcome the thousands of runners who will visit the city on the occasion of the Barcelona Marathon. If you are one of them, from MH Apartments we give you some keys to make the most of your stay in Barcelona during the Zurich Marathon.
What is the Zurich Marató Barcelona?
The Zurich Barcelona Marató is one of the most awaited sporting events of the year in Barcelona. As its name indicates, it is an athletic event in marathon format (42km) that takes place every year in the main streets of Barcelona. Precisely because of this, due to its attractive circuit (going through the main tourist spots of great interest), the Barcelona Marathon has become one of the most important ones at international level.
Passeig de Gracia, Sagrada Familia, Torre Glòries, Colón or Arc de Triomf are only some of the points of the route that, as every year, delight the thousands of "runners" that fill the streets of the city during the Zurich Marató Barcelona.
When is the Zurich Barcelona Marató?
The Zurich Marathon Barcelona 2020 will take place on 15 March. The start will take place at 8.30am from the Reina María Cristina Avenue and it will have a deadline of 6 hours from the beginning of the race.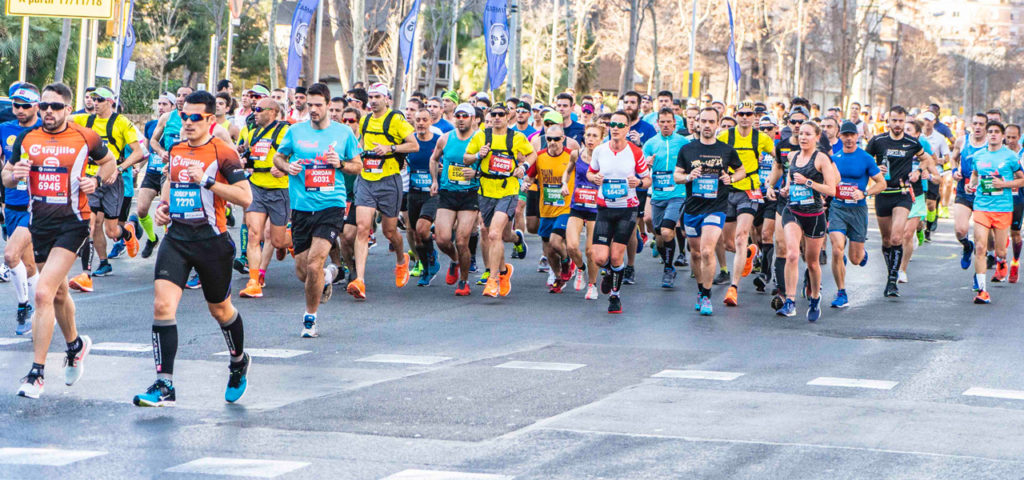 Zurich Marató Barcelona 2020: how to arrive
There are several ways to reach the Zurich Marathon Barcelona by both public and private transport. It is, of course, recommended to arrive relatively early to avoid last-minute crowds.
One of the most reliable options, taking into account that on this day there are usually cuts and traffic alterations (many bus lines will suffer alterations) is to use metro, Ferrocarrils de la Generalitat or Rodalies. The nearest metro stop is Espanya (L1 and L3).
If you decide to take the Ferrocarrils de la Generalitat, the stop is also Spain and the lines are L8, S33, S4, S8, R5, R50, R6 and R60. Another option is Rodalies to Estació de Sants and walk to the starting point of the marathon.
Accommodation for the Zurich Marató Barcelona 2020
From MH Apartments we offer you a wide range of apartments in Barcelona for the Zurich Marathon Barcelona 2020, equipped with all kinds of details so that your only concern is to enjoy the sporting event and the city.
And if you are one of those who repeat and want to enjoy other popular races, in this post we tell you some of the best popular races in Barcelona.