Following our previous post about "curious places in Prague (I)", from MH Apartments, we suggest you to continue our points of interest and attractions route to discover one of the most beautiful cities in Europe.
John Lennon's Wall
Lennon became a hero to the communist youth of Central and Eastern Europe for his peace and freedom messages. So when he was killed in 1980 many of these young people decided to create on their own a tribute wall with inscriptions. At first, it was Beatles' lyrics, John Lennon's phrases and drawings, but finally it became a monument to the freedom of speech through activist ideals, peace dreams and messages against the state. The wall has been repainted several times for various reasons (the last time was in November 2014 when a group of artists covered the wall in white except for the phrase "Wall is over!"). Luckily, new messages and drawings always reappear, although over time it has lost the anarchist spirit of its origins. John Lennon never visited Prague, but you can find his wall at Velkopřevorské náměstí (Grand Priory Square), opposite the Buquoyský palác.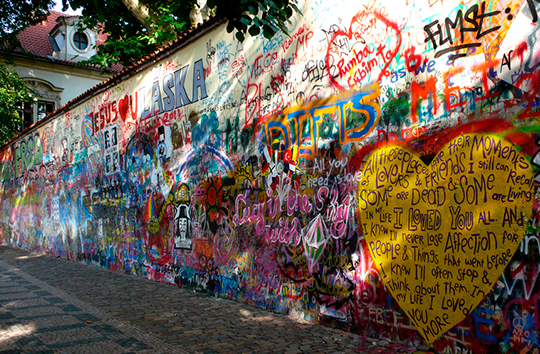 Foto: Jose Mesa
Artbanka Museum of Young Art (AMoYA)
Opened in 2011 and built in just four weeks, the Artbanka Museum of Young Art (AMoYA) is dedicated to contemporary art lovers and open minded people. Its main goal is to internationally promote the work of young local artists, and also the established artists of the generation after 1970. Thus, the permanent exhibition coexists with some variables pieces from the Young Visual Art program, in which students from Czech Republic and Slovakia can experiment with their own creativity. Among his pieces, surely you know the masterpiece 'Pistole NY' by David Černý. It consists in four giant guns that are targeted at each other as a metaphor of the domestic violence. Artbanka is at the end of Karlova Street, in opposite direction to the Charles Bridge (Karlův most).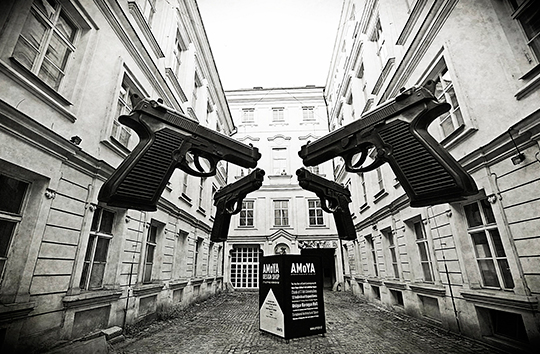 Foto: Shivaranjan
Námestí Míru
Prague has only three metro lines and three stations where you can change trains, so it is quite easy to move in this public transportation. If you find an opportunity to travel on it, you should get off at Náměstí Míru station (line A – green), where you will find the longest escalators in Europe. This is because the station is 53 meters depth, approximately. When you reach the outside, remember to visit the Church of St. Ludmilla and Vinohrady theater (Divadlo na Vinohradech).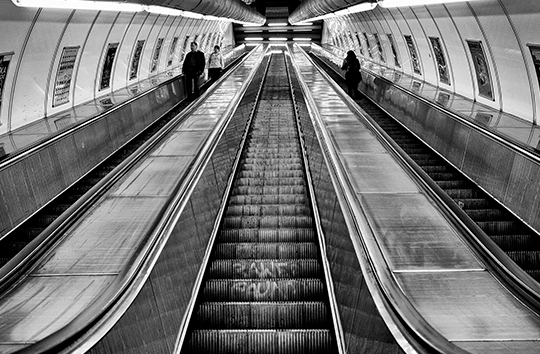 Foto: Sandra Druschke
Exhibition in the Czech National Bank
'People & Money' is the permanent exhibition of the Czech National Bank, where visitors can illustrate the evolution of money through elements of exchange, notes and coins. In addition, visitors also will tour the history and financial development of the bank. The visit also consists in audiovisual presentations, touch screens with information, counterfeit money and much more. Admission is free, but it is important to book in advanced due to the large number of visitors and its limited capacity.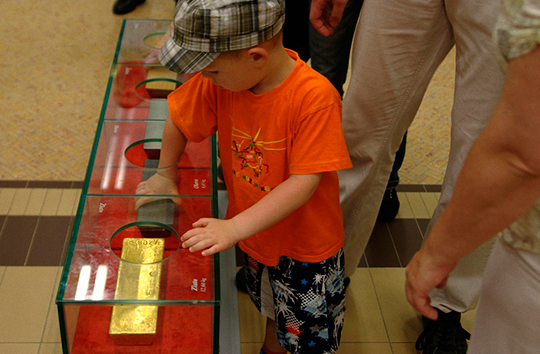 Foto: Radek Bednarik
Prague Metronome
Since 1991, a giant metronome is located where it was placed the controversial statue of Joseph Stalin (the Communist leader in the early years of the Soviet Union), which was dynamited in 1962. This kinetic sculpture is an art piece of Vratislav Karel Novák. Some people say that it is a metaphor for the measurement political stability, but others say that once Mozart said from the top of the hill: "I like this city, it has rhythm!". However, now it's a place visited mostly by the Czech youth, who meet and skate around it.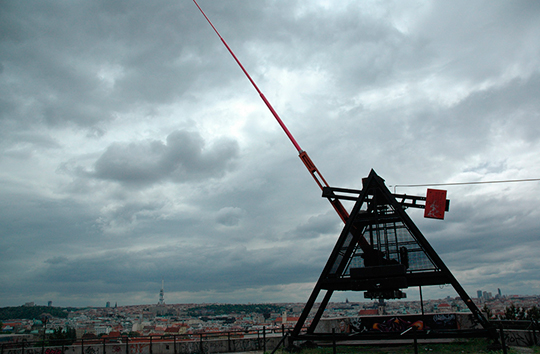 Foto: Scott Fuhrman
However, if you are more classic and want your holiday to Europe is full of luxurious details provided, then the best option for you is to book a room in Prague or a room in Barcelona that will become your haven of peace.
Foto de portada: Erwan Martin
MH Apartments
www.mhapartments.com