It's official: goodbye summer, hello autumn. Autumn in Spain is synonymous with pleasant temperatures, leaving behind the overwhelming heat of summer. In addition to a drop in temperatures, it is also a propitious season to enjoy the cities, less overcrowded by tourism and which, moreover, see their streets and parks tinged with the particular orange, red and brown of autumn.
Spain is an ideal destination to visit in autumn. How about a getaway to Madrid or Barcelona? The two capitals have numerous plans for leisure, culture, gastronomy and traditions at this time of year. If you are thinking of doing so, at MH we tell you what to do in Spain in the autumn.
What to do in Madrid in autumn?
Autumn is a season that makes Madrid feel especially good. Full of parks and gardens, strolling through the capital of Spain is a pleasure for locals and tourists. And to talk about autumn in Madrid is to talk about El Retiro Park: 125 hectares and more than 15,000 trees that make El Retiro the lung of the capital and a haven of peace amid the hustle and bustle of the city. El Retiro hides many charming corners: the photogenic pond, presided over by the monument to Alfonso XII; the statue to the Fallen Angel, one of the few representations in the world and said to rise to 666 meters above sea level; or the Palacio de Cristal, inside which houses exhibitions of contemporary art.
In addition to El Retiro Park, there are many other parks in Madrid where we can enjoy autumn: el Capricho Park (located in Alameda de Osuna, El Capricho is one of the most beautiful parks and, at the same time, one of the most unknown), Campo del Moro (spectacular 19th century English style garden located very close to the Royal Palace); or Cerro del Tío Pío (known as «the park of the Seven Tits and located in Vallecas, this park offers us privileged views of Madrid's skyline).
For those who are more than walking around the city, autumn is also ideal for some of the best Sunday plans in the neighborhood of La Latina: getting lost in the stalls of El Rastro (open every Sunday from 9h to 15:00h). And to finish a busy morning of shopping, nothing like a vermouth and a «pincho de tortilla» in La Latina.
To combat the first drops in temperature, nothing like sitting down to enjoy the typical churros with chocolate. Do you know which are the churrerías in Madrid where you can have the best chocolate with churros? Very close to Calle Mayor, hidden in the Plazuela de San Ginés, we find the Chocolatería San Ginés, the most famous churrería in the capital. Halfway between the metres of Ópera and Sol we find the hundred-year-old Chocolatería 1902 (Los Artesanos 1902); and we cannot forget the Churrería siglo XIX which, as its name indicates, opened three centuries ago and is famous for having, or so they say, the largest cheers in Madrid.
Where to stay in Madrid in autumn?
In MH Apartments we have exclusive apartments in Madrid for you to enjoy your stay in the capital in autumn. Our apartments MH Central Madrid have an unbeatable location in the heart of Madrid, very close to La Puerta del Sol and Plaza Mayor and with all the services to enjoy your stay.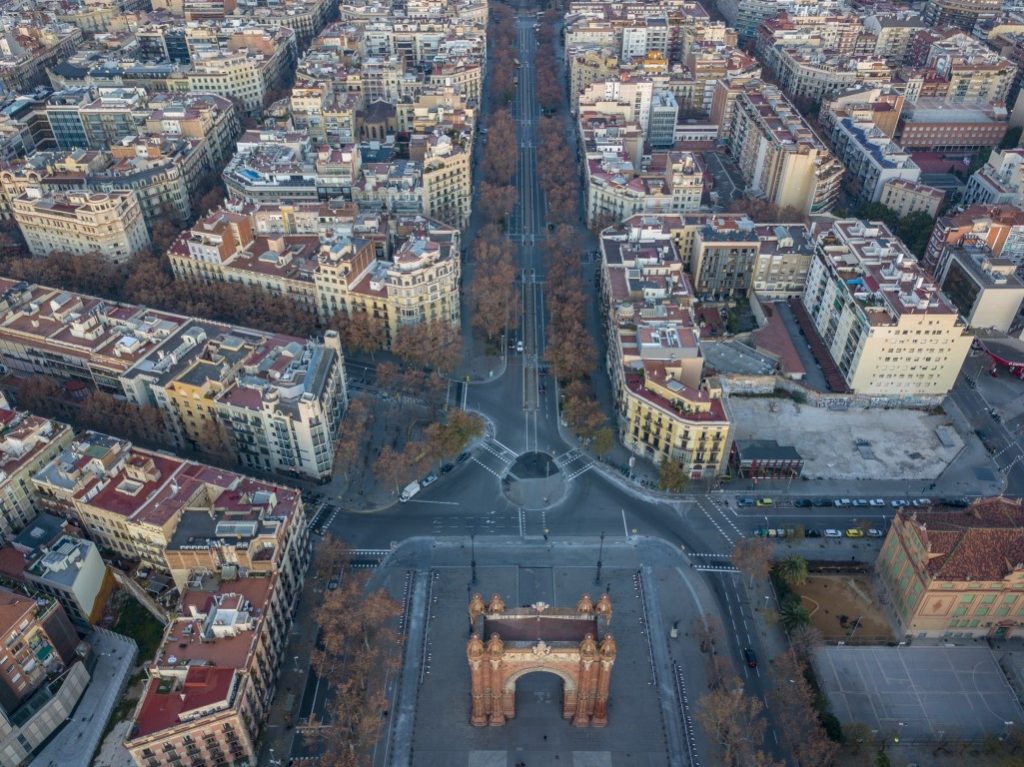 What to do in Barcelona in autumn?
While it is true that, unlike what happens in Madrid, the difference in temperature with the change of season is less drastic in Barcelona, it is true that the climate is milder and more pleasant in autumn. In a city whose tourism revolves around the sea, it is to be expected that in autumn the number of tourists will also fall.
Autumn in Barcelona (and in the rest of Catalonia) is especially characteristic when it comes to gastronomy. Mushrooms, sweet potatoes, pumpkin or artichokes are the main menus in most bars, restaurants and homes in the city. And in this list we cannot miss the chestnuts, which give name to one of the most characteristic traditions of the city: the Castañada, which every 31st of October fills the city with stalls where we can buy chestnuts, sweet potatoes and panellets to combat the cold and which impregnate the city with that «autumn smell».
And speaking of fighting the cold, the city also has many places to eat churros with chocolate in Barcelona. In Calle Petritxol you will find the most typical cafés or «farms»: Granja Petritxol, Granja 1872 (inside which there are still remains of the Roman wall) or Granja Dulcinea. And outside of c/ Petritxol, in this list we could not miss a classic of Barcelona: the Granja M. Viader, of the founders of Cacaolat.
Where to stay in Barcelona in autumn?
At MH Apartments we offer you 11 exclusive apartments in Barcelona, all of them located in central areas (Eixample, Las Ramblas, Sagrada Familia or Gràcia).
In addition to Madrid and Barcelona, in MH Apartments we also have apartments in another city that offers us many options: Prague. We encourage you to also take a look at our exclusive apartments in Prague.